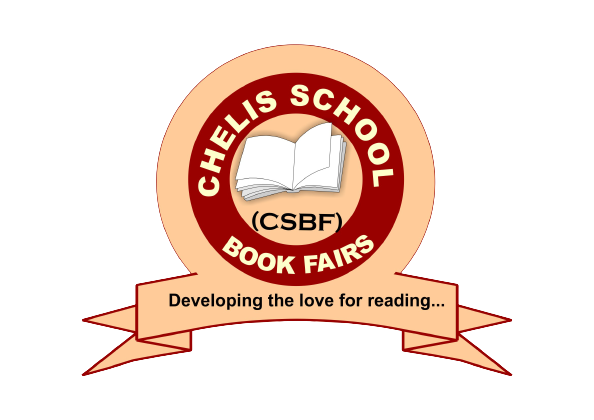 Chelis Boookazine Limited, Nigeria's most creative, innovative and Progressive Education Company is delighted to present to you the 'Chelis School Book Fairs'. This is a school based event primarily aimed at growing the love for reading in Nigerian school children. Our skilled, creative and innovative approach to helping children develop reading habits is driven by our passion to see them succeed!
CSBF is a special school based sales event that enables parents and children to purchase high quality books at discounted CSBF prices. It is a Book Fair planned and run through collaboration with students called the 'Student Crew'. These students volunteers generate exciting ideas and develop real life skills such as communication, team work, problem solving skills, organisational skills, applying for a job, handling responsibility, etc. CSBF helps the school to build and stock their classroom and school libraries at no cost to the school. CSBF gives back to the school 20% of total sales to use towards school projects.

OVERVIEW
Chelis School Book Fairs (CSBF) is an imaginative and creative approach to developing and encouraging reading habits in school children. It provides an extensive variety of great books from leading authors and publishers, sending junior readers on an adventure; giving them a passport to meet interesting people, visit amazing places and uncover hidden treasures through Books.
The fair is conducted at nursery, primary, and secondary school levels; customized to meet the individual needs of the school with lots of new titles every term, plus the best classics all handpicked by book experts.
The fair runs under the direction of the fair chairperson usually selected from among teachers, librarian or P.T.A members.
We will provide everything you need to make your book fair a huge success – tools, resources, tips, and activities to help plan, promote, publicize and merchandise. We will do all the work for you, which includes setting up and dismantling of materials at the book fair venue. Your fair is sure to be an exciting event that will connect kids with books they want to read!
10 Reasons why your school should participate:
1. The primary Motivation for schools to have a Book Fair is to make quality books available to their children and to stimulate reading and learning.
2. Hosting the Chelis School Book Fairs is the best way to support your school's reading efforts and encourage love for reading in your children by offering them an opportunity to access the best selection of books, featuring excellent titles from leading foreign and local authors and publishers.
3. CSBF connects kids with hundreds of book choices and children's literature ranging from detective stories, science fiction, short stories, folklore, adventure stories, travels, imaginary stories, drama, poetry, biographies, character titles, classics, Activities, etc.
4. CSBF encourages parental involvement.
5. It is an incredible way for schools to raise funds to purchase books for their school, classroom libraries, as well as other supplies and equipment.
6. Generates community involvement.
7. Develops skills in children volunteers such as leadership, organisation, responsibility etc.
8. CSBF provides parents the opportunity to choose books with their children at the fair and engage in reading with their kids in tune to their passion.
9. CSBF encourages children to work in groups, thereby promoting co-operation amongst children. Your school receives a percentage of all CSBF sales.
10. CSBF offers generous reward programs like our- Instructional Resources Profit option: This allows schools to exchange profit for naira amount in books or other products.
What does it cost the school?……Nothing!
There is no out of pocket expense to your school to host a CSBF. Your fair is delivered to your school by our CSBF representatives and picked up again when it is over and your school receives 20% of all the CSBF sales.
Book Fair Hours of Operation:
We suggest that the Book Fair should always be open during lunch time and 1 hour after school hours.
Suggested time scale:
This is flexible. Minimum of 2 days and Maximum of one week, Start on a Saturday and end on the following Saturday and held once a term.
Student Crew Job Titles:
Assistant Manager,  Promotions Specialist,  Inventory Specialist,  Customer Care Specialist and Security Team
Book Fair Hours of Operation:
We suggest that the Book Fair should always be open before the assembly, during lunch time and after school hours.
Suggested Time Scale:
This is flexible; minimum of 3 days and maximum of one week. The Fair can be held once a term.
To Get The CSBF Form click here
PLEASE REMEMBER TO SEND COMPLETED FORM TO  csbf@chelisbookazine.com
For more information, call 08056736358, 09030096733